Alone in a Yellow Room
My doodle of the day
---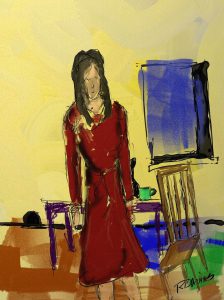 How can you be alone in a yellow room?
Answer:  When you are by yourself.
This is an image that came to the Mind of D early in the morning. I am learning to use this blog thingy as well as learning to use my new iPad Pro to create art. I sketched this this morning on the iPad Pro using Sketchbook Pro and the Apple pen. It's all new to me…and I'm old and slow.
Please be patient with me.  I love comments and suggestions and will be adding some of my artworks to Zazzle, Redbubble, Fine Art America and who knows what else . This way you can buy my art before I'm dead and get it printed on all kinds of things…not just to hang on the wall. Usable art is sweet. Stay tuned. Peace
Comments
I love comments and questions.  Feel free to send them to me below. – Richard
---