Digital ART ….Yes or No?
I have always been a doodler. In the early days mostly on paper, with pencils and the occasional ink pen. I love the feel of the different papers. I like the resistance they generate when the pencil moves across its surface. I like that paper is tangible.  As time past and I moved into watercolors, acrylic and even pastels (though my arm was twisted) and discovered a world of new papers, brushes and techniques. I love experimenting. I assume that anyone with even a twinkle of creativity love to experiment. From beautiful happy accidents to mud smeared on the surface of something…it's all wonderful. Messy but, wonderful. My number one problem is that when I travel…be it a cruise, a camping trip to the lake, or a 5,000 mile road trip.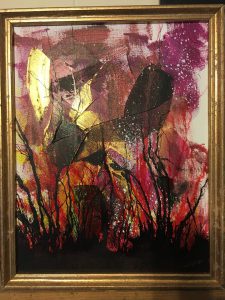 I get completely frustrated as to what to take on the journey. I want everything. Just in case I might need that pen, or that eraser. This self induced dilemma drives me nuts.  I am getting better…a little better…not much really. A lot of my hand drawn pieces are then scanned into the computer where I can play with them some more, or incorporate them into project…like a CD Cover, poster etc.  This means I also have to take my bigger laptop just in case. Can you see how quickly this can get out of hand? I'm not even going to start with my music and guitar.
  However, I have discovered a new "Toy"  I bought myself a huge iPad Pro. I have a Wacom Tablet on my PC. I use it for design and graphics jobs…so I had some idea as to the realm of digital art…but, this thing blows my mind (and there is not much there to blow).  Depending on the software I'm using…I use Sketchbook, Artrage, and ProCreate (so far) I  can do just about anything my mood or need dictates. Figuring it out has been a trip. I've been a PC man all my life.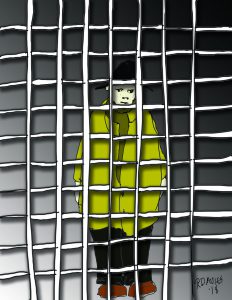 My art can be a little (a lot) strange. With the ipad I can be as strange as I want to…when I want too and not make a mess on my clothes or anything for that matter. For this, my sweet little wife is pleased.  I do so miss the tactile feel of paper and pencil and I'm not giving up anything and just going digital …Oh naa-naa.  The iPad however, does mean I can narrow down the amount of "just in case" stuff I carry with me all the time. For this, my wife is also pleased. As for my art … I think it has opened more doors of discovery. I can experiment with mediums (even though simulated) that I would have never tried…BECAUSE….if I make a mistake I can just click it away instead of having to adjust my drawing to cover up the error. Even though I do find that quite challenging. I like the fact that my colors stay the way I lay them down and that I can smudge them around if I want to. Another thing about my art is that it is fast (not like a lady of the night) but done quickly. A habit I formed over the years because there are not enough hours in the day…or night. I don't have to stop and wash brushes, change colors in my airbrush, or ever run out of a color I need.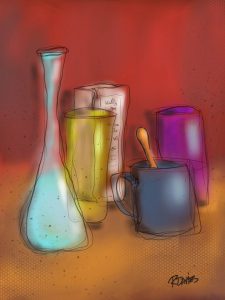 When I have the art printed (the largest I've done is 18×24) the colors are vivid and sharp. The resolution is over 300dpi and integrates beautifully into other graphic projects.  There is still so much to learn.  As I see it, digital and traditional art use the same techniques. The same skill set as it applies to one's abilities, perspective, composition, interpretation and working knowledge of the medium.  Or for a doodler like me…the freedom to try anything…anywhere.
In a nut shell…actually from the nut in the shell…I love this new fangled art making machine. I think I'm going to keep it and continue my run-a-way doodles on it.  If you have any comments….comment them.  If you have questions….question away. If you owe someone money and they are going to break your leg…hollar at me I think I have an old crutch somewhere around here. See ya, Peace
---